Careers and Employability
During their time at Claydon High School, students will take part in various career and employability skills activities. We work with a range of providers to give students the opportunity to learn more about the choices they have for the future. To view our comprehensive careers programmes and policies, please click on the links below:
KS3 Careers Programme KS4 Careers Programme
Careers Education, Information, Advice and Guidance Policy
Examples of Activities
WOW Week – Years 8-10 take part in an Enterprise Challenge Cup, where they complete a project which is then presented and judged by local employers. Year 11 take part in post-16 taster days and learn how to apply for a job, including: preparing CVs and application forms, knowing where to find vacancies, looking at interview techniques and listening to talks from employers.
Suffolk Skills Show – Year 11 visit the Suffolk Skills Show to learn more about employment opportunities in the local area.
Pathways Evening – This is a KS4 post-16 information evening for students and their parents/carers to discuss, with local and national employers and post-16 providers, jobs or courses that will be available to them when they leave school
Learning About Work Day – Local employers are invited to school to teach students about 'employer expectations'. Each student has the opportunity to have a one-to-one interview with a representative from a local business/company.
Currently we organise visits to: University of Suffolk, Suffolk One, Suffolk New College, Northgate High School and Otley College, to name but a few.
Quick-fire Connections – A Year 9 speed networking event where we invite local businesses in to school to talk to students so they can find out more about different careers. These range from hairdressing to nursing to working for the police.
Future First – We have also been working with Future First on university and employability skills sessions across the school. They have also helped us set up an alumni. If you are a former student of Claydon High School and would like to join, please email alumni@claydonhigh.com so we can add you to our growing list. This has been a brilliant way of asking former students to help us support our current students.
Work placement visits - In the summer term we organise work placement visits for our younger students so they can see a place of work in action. Year 7 visit Tex Holdings, a local multi-million pound engineering company; Year 8 visit Suez, a local 'energy from waste' facility.
Business Mentoring – Students can access a Business Mentor during their time at Claydon High School, helping them to research a chosen career path.
Students are also able to access the Careers Library which has prospectuses from both further and higher education providers. The library contains computers that students can use to research different career paths and courses. They can also make appointments to see our careers guidance professional, Ms Laing. Specific careers topics are also taught as part of the PSHE programme for Years 7-9 and within PD at KS4.
If you are an employer who is interested in offering your time for any of our careers activities, please do get in touch with Sue Garner on 01473 836110 / sgarner@claydonhigh.com. We would be delighted to hear from you.
To view our Provider Access Policy, please click here.
Careers Information and Advice
A dedicated team of staff work to support students through the decision making process and transition points. This includes:
Careers Guidance
During their time at Claydon High School, all students will have the opportunity to receive one-to-one careers information, advice and guidance appointments with our professional Careers Advisor, Ms Lisa Laing. Ms Laing works for Alltogether and provides impartial and independent careers advice. Students from any year group can request an appointment. If your child wishes to see the Careers Advisor, they should speak to their Form Tutor or Mrs Garner in the Wider Opportunities Office in the first instance. Ms Laing supports all of our Year 11 students during the autumn and spring terms, helping them plan for their future and to understand the various choices they have, as well as guiding them through college applications etc.
Year 10 Work Experience
As part of your child's careers programme and employability skills development, students are required to do one week of work experience during Year 10, this takes place in May.
We believe work experience is highly valuable to our students, giving them the opportunity to see what the working world is like. They learn how places of work are organised, what work processes are and that employer expectations are very different to school. We feel this experience is vital to our students' development into young adults.
Students are required to source their own placements. Finding a company which can accommodate students for work experience can be a lengthy process and often requires students to follow up with letters and phone calls. Many companies may not accept students and we find a lot of resilience is sometimes needed so that they do not take this personally. If a student feels they need some extra support with cover letters, CVs or ideas they can visit Mrs Garner in the Wider Opportunities Office.
Last year's work experience was very successful and below are a few comments made about our students from the companies they went to:
"Willing and enthusiastic student who is keen to learn."
"Nice happy chap. Engaging well with children. Absolutely brilliant."
"Fantastic! She asks questions, is keen to learn and a joy to have with us."
"Has been a star! Very good."
Careers Leader: Mrs Higgon oversees all aspects of our Careers Programme, liaising closely with Ms Laing and Mrs Garner. For any queries, please email jhiggon@claydonhigh.com or telephone the school on 01473 836110.
Useful Links
The Source is a website from Suffolk County Council which is designed by young people for young people.
There are many useful pages on this website including: choices at 13+, choices at 16+, a CV builder, various job information as well as signposting young people to information about health, housing and money. It also has a lot of information on apprenticeships, inlcuding how to search and apply. You can even download an app which sends alerts to your phone every time a new apprenticeship in your chosen field is uploaded onto the apprenticeship system.

Icould is full of career videos of real life stories from many different industry sectors, from zookeepers to accountants! You can get first-hand information on jobs and ideas for the future from the people who are currently in those roles.
You can also take the "Buzz Quiz" in under five minutes and find out what type of animal you are. This is a tool which helps students to start thinking about their career, what they like and what they could do. The 'Buzz Quiz', based on Meyers Briggs personality tests, is a simple personality quiz which identifies your character traits and will give you a list of jobs which might be suitable to you.

Start Profile has a lot of information about various employment sectors. You can narrow your search down to look at a specific role and find out all about it, from what skills are needed to how much money you could earn.
Register for a free account and then take the test on this website to see what careers you might be interested in. It may take a little while to complete but Start profile will save your answers for you to come back to at a later date.
www.nationalcareersservice.direct.gov.uk
The National Careers Service website has information and careers advice on many job roles. Students can take the 'skills health check' to give them some ideas of what area would be suited to them. You can also request to speak to one of their Careers Advisors.
A recently launched website which provides news, information on events and jobs in the local area. Once you have created an account you can learn more about employers and follow them to keep up-to-date with their latest information.
UCAS website will help you search Higher Education courses.
https://www.gov.uk/apply-apprenticeship
This is the apprenticeship website where you can search and filter for current live apprenticeships in your area. You will have to create an account before you apply for most of the apprenticeships here.
This website will help you explore the alternatives to Higher Education.
This website contains a vast array of general information for school leavers including information about the UK job market, careers sectors, employer profiles and university reviews.
This website will help you research a vast range of different careers and the training, qualifications and experience associated with them. FutureLearn is partnered with over 170 world-class universities, institutions and industry leaders to create world-class courses to help you with your career.

Links with Employers and Local Businesses
At Claydon High School we are proud of our long standing links with many employers and businesses in the local area who return to us year after year to support us with our events and careers education.
We are always looking to work with as many different businesses from a range of different sectors and industries as we can in order to provide our students with a broad and varied experience of both our local labour market and the world of work.
"Claydon High School excels when it comes to interacting with local employers such as ourselves. The Learning About Work Day and Speed Networking events are really good examples of this and it is clear the pupils gain valuable experiences as a result - our staff also very much enjoy visiting the school and sharing their knowledge. We also enjoy supporting the pupils through the provision of work experience placements during the summer and have had a number of pupils visit our office in recent years and feedback has been really good. It is great to see a local school focusing on raising the awareness of its pupils when it comes to preparing for life after education."
Andrew Pike, Handelsbanken
If you would like to support us with engaging and developing the workforce of the future, please contact Sue Garner on 01473 836110 / sgarner@claydonhigh.com. We would be delighted to hear from you.
Our local Post-16 Providers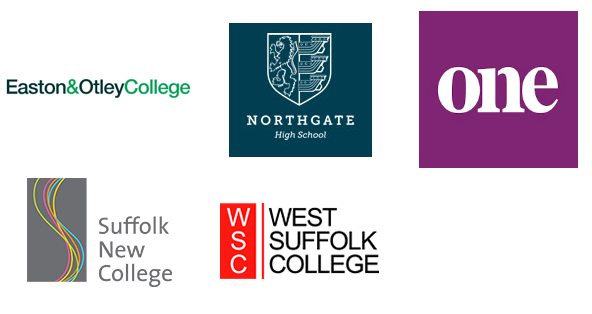 Mrs Higgon – Careers Leader
Mrs Garner – Wider Opportunities Coordinator
Mrs Laing – Careers Advisor